Like others, Valentine's Day is a special day of the year. For couples, families, relatives is (in theory) a moment of love and sharing, but for chains of shops and restaurants it is especially a great opportunity to attract new customers. Valentine's Day is just one of the opportunities to use as we know that throughout the year, users are looking for information and advice on places to (re) visit. So you have a double opportunity to use for your marketing communication.
We especially want to focus on the "web-to-store" devices like Google My Business and Waze, and the benefits that their features can bring to your stores, shops or restaurants, in terms of physical traffic. Whether for Valentine's Day or for the notable periods of the year.
Attract more customers during Valentine's Day with Google My Business

Source : www.google.com
Google My Business is no longer the tool that allows "physical" businesses, among other things, to be visible in Google search results and on Google Maps. It is also suitable for store networks and restaurant chains (through group management). Check out the dedicated article to learn more about Google My Business.
Google My Business has many great features to make these pages more attractive. Some of them will help you make a difference for Valentine's Day.
Set exceptional opening hours for a store or restaurant listing
During a particular time of the year, such as Valentine's Day or a public holiday, the usual hours of operation may be relegated to the background to make room for specific opening hours.
Are your establishments open the day before and the day of Valentine's Day, for example? This year February 14 falls on a weekday. Will your restaurants or shops be open sooner?
The tool really takes into account this distinction and shows users whether it is a special schedule (opening or closing). Otherwise, simply leaving the usual hours, you create doubt.
We strongly recommend that you include the exceptionally open hours on your Google My Business listings, even if they are the same as your regular business hours. Users will then clearly understand your intentions and go "safe" to your points of sale. It will also be an opportunity to stand out from competitors who do not put this rule into practice.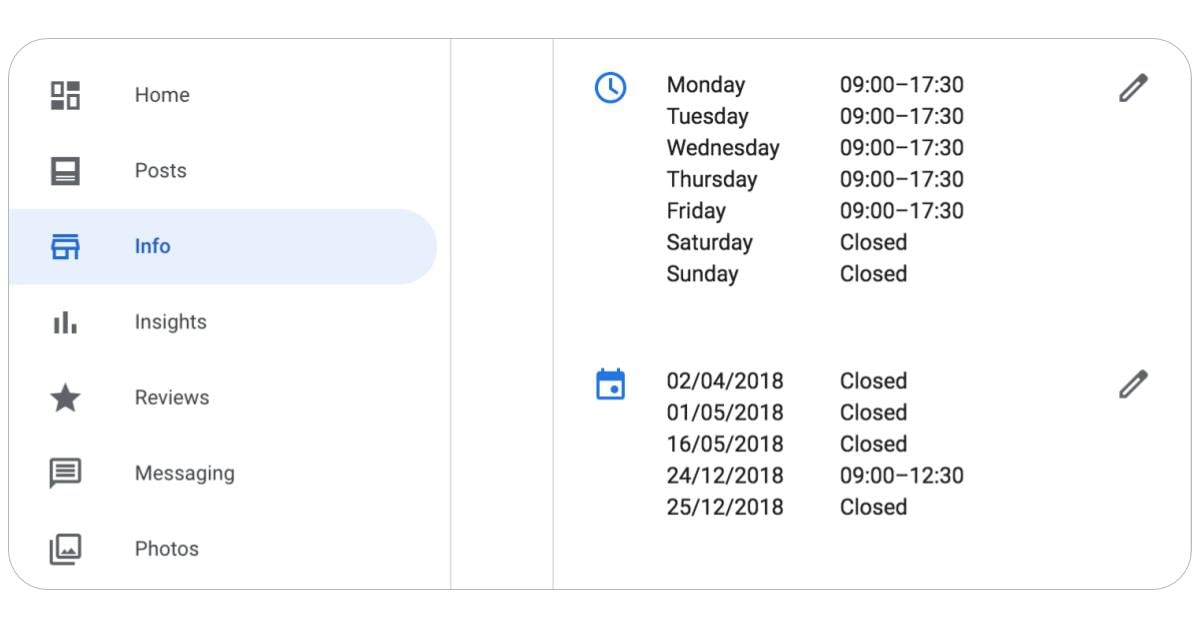 Section Overview Hours and Special hours in the Google My Business Dashboards
Remark : In the Google My Business dashboard, the Special hours section is only available if regular business hours have been entered. – If you use this feature, the usual hours remain the same for the other days. – The Special hours section allows you to add dates independent of the holidays already listed, use this option to record your unusual opening / closing days.
The publication of information on the events, products and services of institutions
Through Google Posts you can present your visuals (text, photo, video) to users when they find the page of your business or restaurant on Google.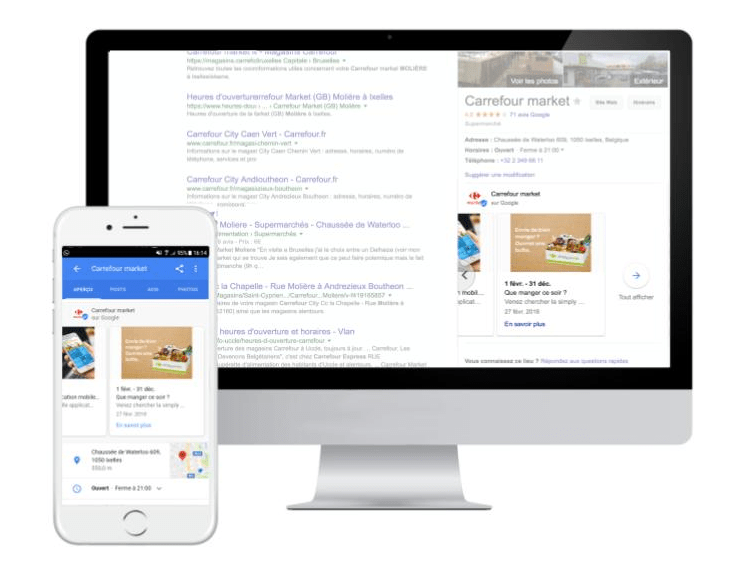 This feature is constantly evolving and allows to post several types of post: What's New, Event, Product and Offer. The first three give Internet users the opportunity to perform an action directly from the publication: Book, Order Online, Buy, Learn More, Sign up or Call now. (Feb 2019)
If you have commercial actions for Valentine's Day and want to strengthen your communication, think about Google Posts. Publish on your specific opening hours if there are any, on your offers and promotions, on your contests or on any other info that could motivate users to visit your businesses.
Attract more visitors during Valentine's Day with Waze
The Waze GPS Navigation app connects drivers with each other with the goal of improving the journeys they make on a daily basis. And in order to monetize its services, Waze offers geolocated advertising to advertisers. With its +100 million users worldwide, including +10 million in France since the spring of 2018, Waze can be a real springboard to guide drivers who pass close to your institutions.
For example, we know that in the United States "Wazers" are moving more significantly towards florists, pharmacies, restaurants and jewelers on Valentine's Day and the day before.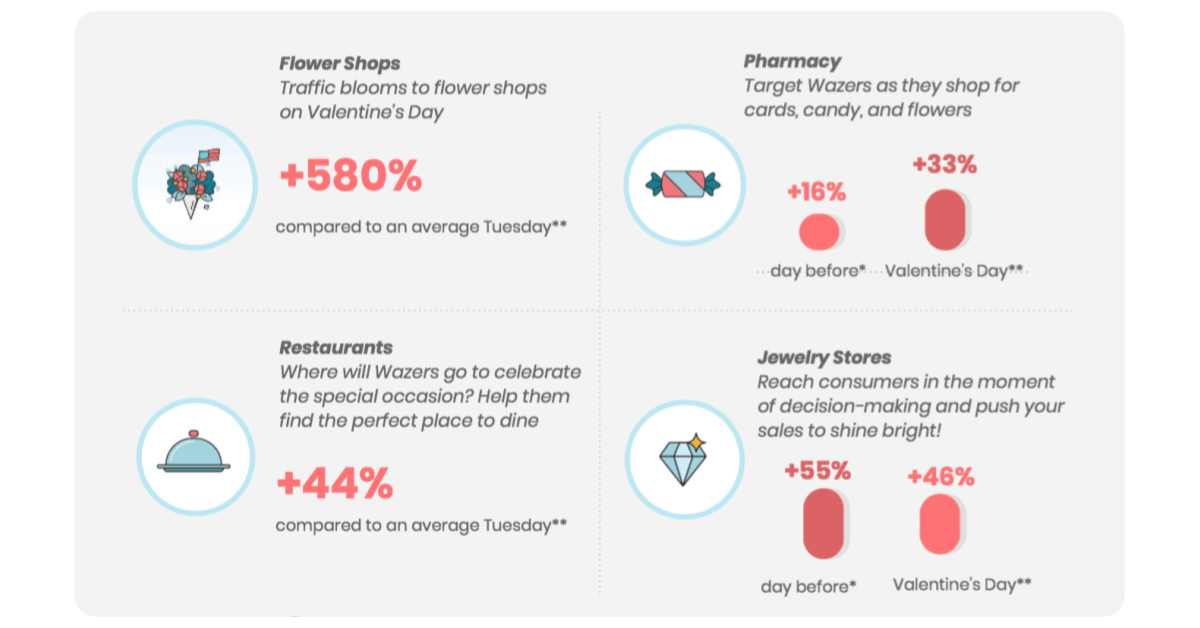 Source : US Waze Data, February 2017
Advertising formats offered by Waze
Branded Pins
The Wazers see on the map the businesses that are on their route or nearby.
Promoted Search
The ad appears at the top of the app's search results.
Zero-Speed Takeover
The announcement is only visible to drivers who are in a state of immobility

Source : www.waze.com
Will you be operational for the next calendar events this year?
Valentine's Day is certainly one of the first notable events of the year, but others follow quickly: holidays, holidays, trade fairs and fairs … Does your company need support to implement digital actions for its network of points of sale?