This year Easter, Labor Day, Ascension and Pentecost all fall on a weekday. Another reason for retailers to correctly set the specific opening hours of their points of sale on the Internet.
Why is it important to indicate your exact hours?
During holidays, it is essential to post online the times when your doors will be open for several reasons:
– Consumers have more free time to go shopping during these holidays, so take advantage of it.
– They are on the alert because they know it's a special day. Give them confidence by clearly displaying your intentions to open and they can then go safely to your institutions.
– It's a great way to stand out from the competition. Indeed, the stakes are high yet many brands have not yet the reflex to update the local web pages of retail outlets.
NEED HELP TO UPDATE YOUR EXCEPTIONAL OPENING HOURS? CONTACT US!
Specific opening hours on the local Google My Business Pages 
Google My Business is one of the few players that allows companies to plan their exceptional hours in advance. Google also uses different colors regarding exceptional hours. This allows consumers to know if the business they are looking at specified if they were open on that precise day or not. One can immediately tell the difference between businesses that did managed their exceptional hours (green message to state that the opening hours are correct) and those who didn't (orange message stating that those hours may differ).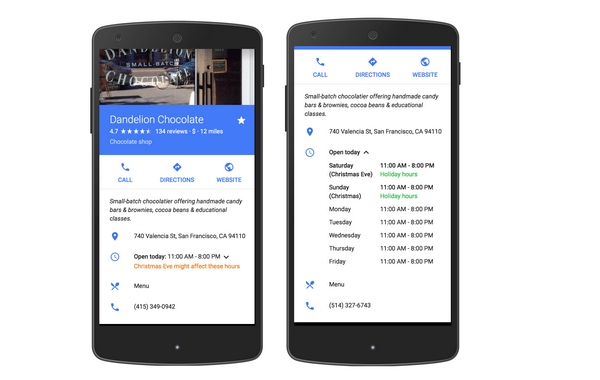 Exemple d'ouvertures exceptionnelles spécifiées (en vert) et non spécifiées (en orange)
Emplify the announcement of your exceptional hours with Google Posts
Google my Business has a lot of features that businesses can use to increase 'online to offline' traffic in their stores. The latest feature that doesn't need any further introduction is the Google Post. With this features Google actually allows you to literally share content directly on your Google My Business page. Which exposes your content to large audience and enhances your chances of attracting local customers.