During this time of crisis there are many informations circulating about how to manage your Google My Business Listings and what functionality to able or disable. In this blog post we reviewed them for you in 5 key points.
Activity status and opening hours
In this time you might be open as usual, provide only a range of the services you usually do or might even be closed if your business is not considered as "first necessity" by the state. Here are the guidelines on how to update your GMB listings and stay in touch with your customers.
✅You are "Open" – The do's :
You absolutely need to update your openings hours (and/or your customer support presence) in the "Special Hours" section as long as the lockdown is in place. It is important to indicate to your clients that your informations are up to date and reliable. If you maintain only some of the services you usually provide, you can inform your customers in another section of the listing (check part 2 and 3 below).
❌You are "Open" – The don't s :
Do not modify your standard opening hours instead of the "Special hours". Your customers will be less certain of the accuracy of the information. When you will stop using the "Special Hours" Google will automatically put the regular opening hours back on display.
✅You are "Closed" (no activity) – The do's :
Our recommendation : use the "Special Hours" as long as the situation is not back to normal. This clearly indicates to the customer that you are not open for business at this time. 
Or, other possibility : Indicate your establishments as "Temporarily closed". This label was put in place by Google in the beginning of March.
❌You are "Closed" – The don't s :
Do not indicate that you are "permanently closed". This is a function used for establishments definitively shutting down. If you do this now it will ruin all your SEO upgrades.
Posts, description and establishment's name
Each listing has a "description" field in which you can use up to 750 characters to describe your establishment. This text is located on the top of the listing and is highly visible. In this time of crisis it is recommended to update this description with all the necessary informations related to your establishment such as opening hours, services and essential informations you want to share with your customers. It is recommended to update your "description" section if you are "open" or "closed".
A more dynamic tool would of course be the Google Posts. These are insert composed of a picture, a title, a text and a link to a website. A specific Covid-19 post format as been implemented since the beginning of April.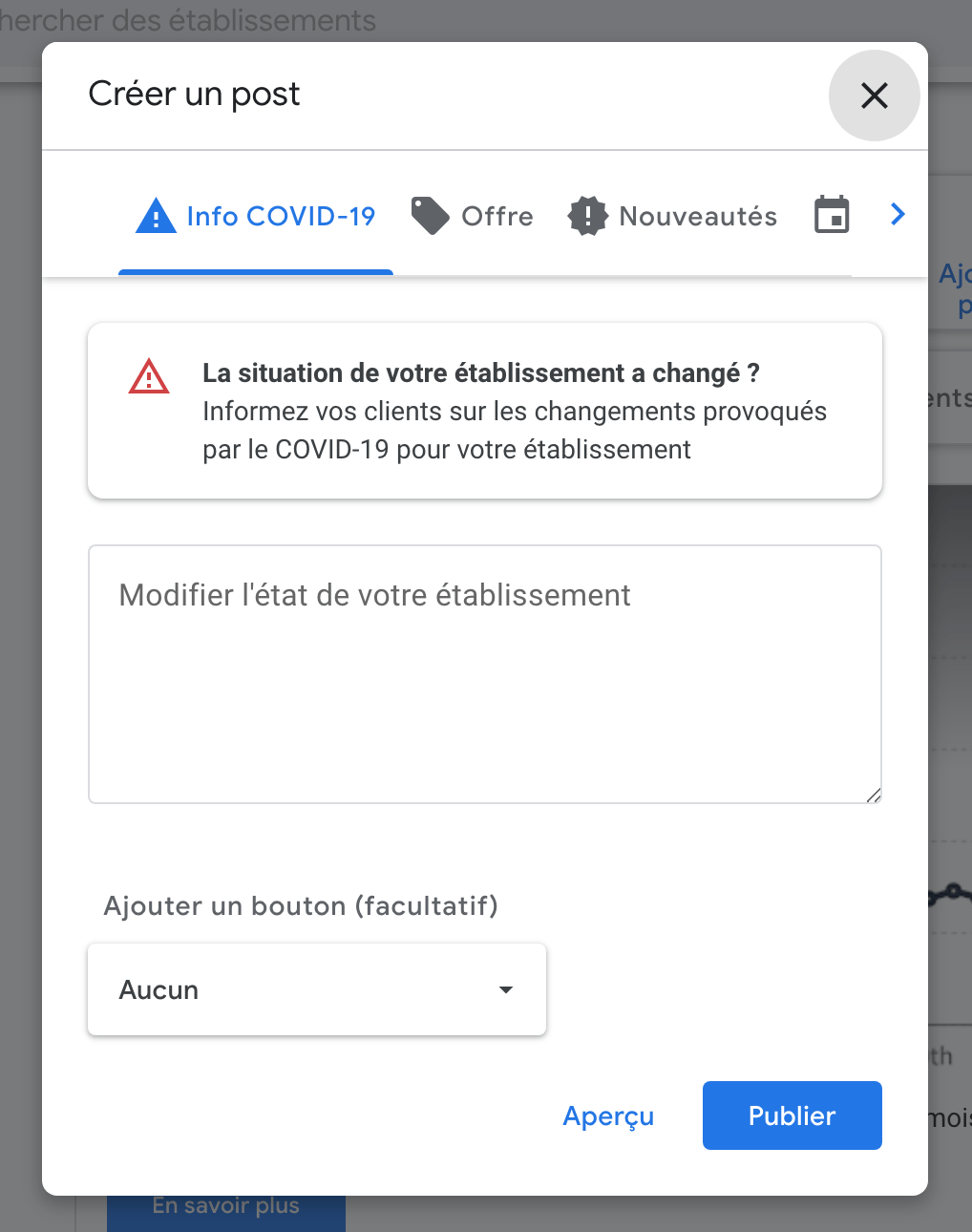 Good to know : Google, who usually has a really strict naming policy, has temporarily allowed restaurants to modify their name to indicate they are delivering during this period.
Categories and attributes
The categories and attributes are a kind of descriptive tags offered by Google My Business. The proposed attributes are depending from the main category. A listing much have a main category and there can be up to 9 secondary categories.
Usually a category proposes between 5 to 30 labels. Some are identical through different categories. For example the accessibility or the payment labels are used in most categories. However, some other labels are specific to categories, such as the delivery methods for restaurants.
In the context of this sanitary crisis Google has set up specific attributes related to different kinds of businesses. This is why you should optimize their use :
Your potential customer will get more precise informations about your business.
The search is more effective because the search results are more specific to the original query.
It helps your ranking in the vocal search.
Additional URL's
Several functionalities have been set up by GMB in the last few months and one of them is really useful in this special time. This new functionality allows you to add URL's to do specific actions related to your main category such as :
Book an appointment / Order / Book a table / Search articles / Menu / List of services
It is recommended that you use these new Call to action buttons accordingly to your sector and the kind of services you offer in this special period. For example, it offers customers of restaurants the possibility to directly see the menu and order online through your website. It also allows health providers to put forward the fact that they offer telemedicine and online booking.
Interactions with your clients
Activate the Chat on your GMB application to help your customers instantly get in touch with you if you are not reachable by phone or if you are closed.
We recommend that you set up an automatic welcome message to answer the most frequently asked questions. This allows your customers immediate answers and saves you time !
Mobilosoft accompanies retail networks having over 20 points of sale in their Local Digital Marketing. Do not hesitate to contact us in this trying time !
Stay safe and take care,
The Mobilosoft Team.
Consult other articles on the subject…